If you are looking for a smartwatch with a calling function that is affordable, the Noise ColorFit Pro 3 Alpha stands out. With its impressive array of features, this smartwatch stands out in a budget-friendly segment. The smartwatch has everything users look for in a smartwatch, from the display to the design to the battery life.
Introducing the Noise ColorFit Ultra 3 Bluetooth Calling Smart Watch with the biggest 1.96" AMOLED display. This smart watch is perfect for those who want to stay on top of their fitness goals, as it comes equipped with the NoiseFit app which tracks your activity and provides challenges, competitions and rewards. The watch also has a functional crown for easy navigation and an Always On Display for quick access to your most-used features. The watch is made with a premium metallic build and comes with a silicon strap in Jet Black.
The Noise ColorFit Pro 3 Alpha boasts a 1.69-inch TFT display with 500 nits of brightness, providing maximum visibility even when exposed to bright sunlight. Although it forgoes an AMOLED screen, its affordability more than makes up for it. Its design is sleek too, with all its components, such as sensors, charging points, and microphones/speakers seamlessly incorporated into the piece. Furthermore, its dial size comfortably fits both male and female wrists.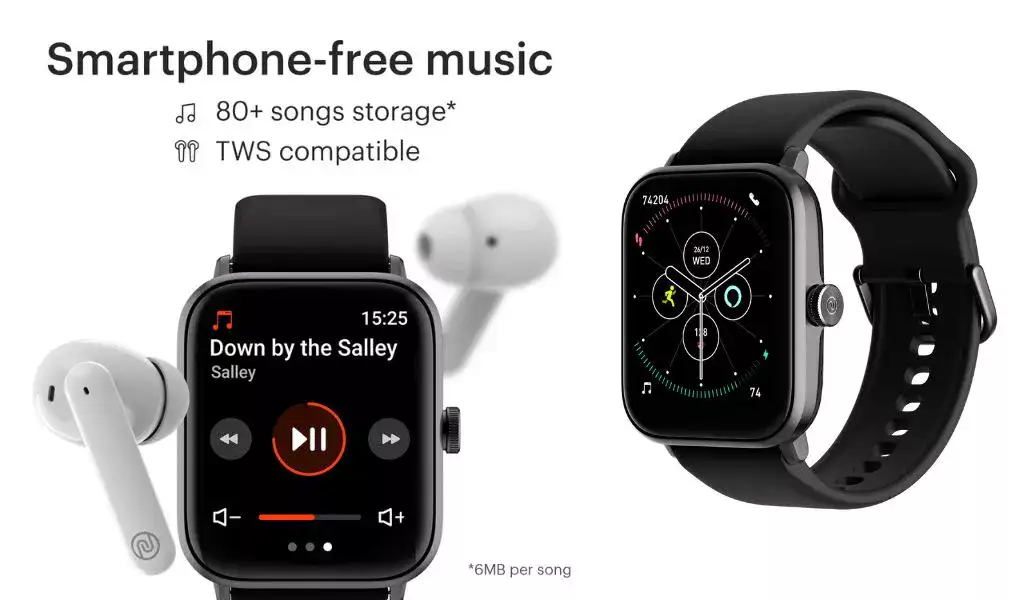 Noise ColorFit Pro 3 Alpha
Specification:
Display: 1.69-inch TFT
Brightness: 500 nits
Weight: 47 grams
Alexa: Yes
Built-in GPS: Yes
Sports modes: 100
Battery life: 3 days
Fast charging: Yes
Internal storage: Yes
Durability: 5 ATM
Pros
80+ songs storage and playback
TWS compatible
A wide variety of sports modes with a 5ATM waterproof rating
Fast charging support
Cons
No AMOLED display
Average battery life
Battery Life and Waterproof Rating:
It is a calling smartwatch, so battery life is crucial. The company claims a battery life of 5 days, but in practice, it lasts about 2 to 3 days. However, fast charging enables the watch to be fully charged in less than 30 minutes. The watch can be extended to 5 days by disabling certain features. Due to the watch's waterproof rating of 5 ATM, users can wear it while swimming or participating in water activities with confidence.
Body Temperature Sensor and User Interface:
Setting it apart from other smartwatches in its price range, the Noise ColorFit Pro 3 Alpha features a body temperature sensor, adding an extra level of functionality. The user interface of the watch is intuitive and unique, showcasing the distinctive and cool UI typical of Noise smartwatches. While a slight lag may be observed, it is expected to be resolved through future updates.
Built-in Storage and Sports Modes:
Another standout feature of the Noise ColorFit Pro 3 Alpha is its built-in storage, which can accommodate over 80 songs (assuming each song is 6MB in size). This allows users to pair the watch with TWS earbuds, eliminating the need to carry a smartphone at all times. Additionally, the watch offers more than 100 sports modes, a feature rarely found in smartwatches within this price range.
Conclusion:
In conclusion, the Noise ColorFit Pro 3 Alpha delivers impressive features and a calling function within an affordable price range. With its display visibility, comfortable design, satisfactory battery life, waterproof rating, body temperature sensor, unique user interface, built-in storage, and extensive sports modes, it exceeds expectations for its price. Embrace the convenience and functionality of the Noise ColorFit Pro 3 Alpha, the ideal smartwatch for those seeking a budget-friendly calling option.