Omron HEM 7120 Fully Automatic Digital Blood Pressure Monitor
In today's fast-paced world, monitoring our health is of paramount importance. Keeping track of our blood pressure is crucial, especially for those dealing with hypertension or other related health issues. The Omron HEM 7120 blood pressure monitor is a reliable and efficient device that allows for easy and precise blood pressure measurement in the comfort of your own home.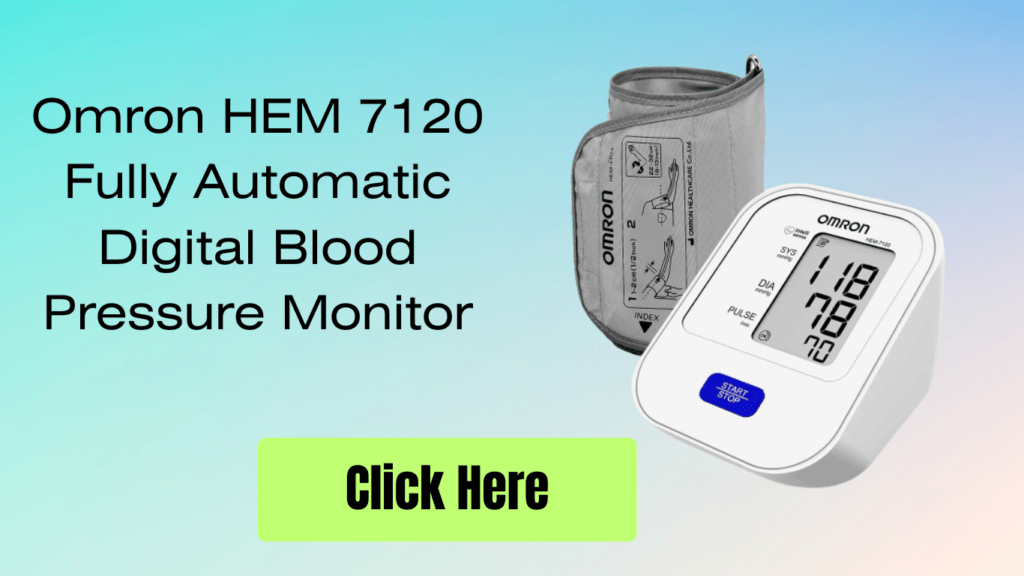 Key Features
1. Accurate and Precise Measurements
The Omron HEM 7120 operates on the oscillometric principle, providing precise blood pressure and pulse rate measurements. Its advanced IntelliSense technology ensures controlled inflation without the need for pressure pre-setting or re-inflation, resulting in the most accurate readings.
2. Comfortable and Easy to Use
With its one-touch operation, measuring your blood pressure has never been easier. The cuff is designed to fit arm circumferences ranging from 22 to 32 cm, ensuring a comfortable and secure fit during the measurement process.
3. Detection of Irregular Heartbeat
This blood pressure monitor goes beyond the basic measurements. It can detect irregular heartbeats, providing valuable insights into your cardiovascular health.
4. Body Movement Indicator
The device is equipped with a body movement indicator that alerts you if there is excessive movement during measurement, helping to ensure accurate results.
5. Hypertension Indicator
For added peace of mind, the Omron HEM 7120 features a hypertension indicator that blinks if your systolic or diastolic pressure is outside the standard range (above 135 systolic/85 diastolic mmHg).
6. Warranty and Support
Omron stands by the quality of this product, offering a 3-year warranty and lifetime support to ensure its performance and reliability over time.
Ideal for Household Use
Designed primarily for general household use, the Omron HEM 7120 is a compact and user-friendly blood pressure monitor that suits the needs of individuals and families alike. The ease of use, combined with its accurate readings and additional features, makes it an essential tool for proactive health monitoring.
Conclusion
The Omron HEM 7120 blood pressure monitor is a dependable and convenient device that empowers you to take charge of your health. With its easy one-touch operation, accurate readings, and various helpful indicators, it's an excellent choice for individuals seeking a reliable blood pressure monitoring solution. Invest in your well-being and ensure you stay on top of your blood pressure with this high-quality, trusted device.
Travel Toiletry Bag 5 Best sellers Bags
The Omron HEM 7121J is a compact, fully automatic bp monitor, operating on the oscillometric principle for precise measurements and accurate results. It measures your bp with easy one touch operation;The device uses its advanced "intellisense" technology for comfortable controlled inflation, even a slight pressure change can be detected, resulting most accurate measurement, Saves time & money.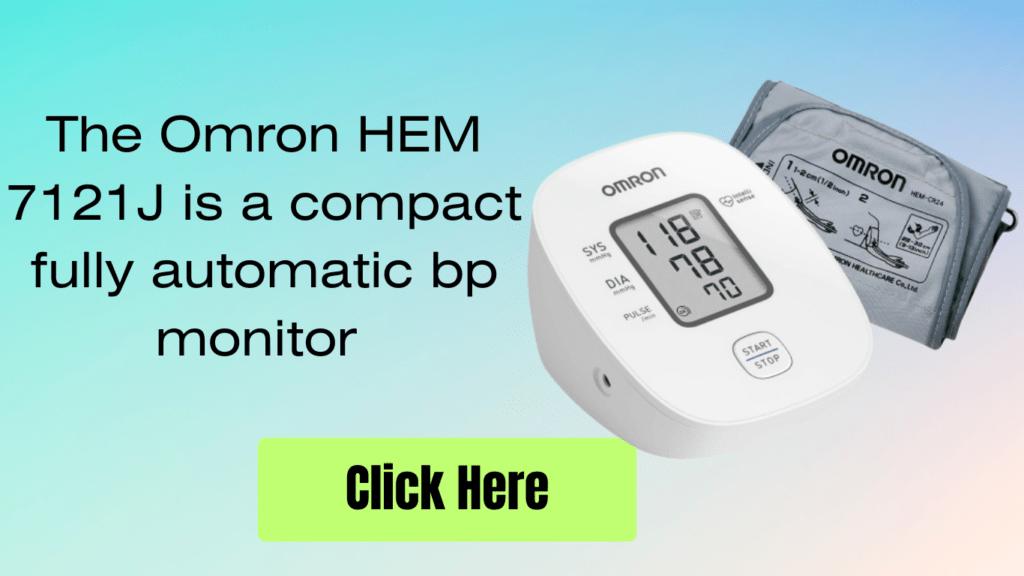 Quick deflation releases valve for speedy measurementAlong with bp monitoring this product detects irregular heartbeat.; Its loaded with body movement indicator and cuff wrapping guide which helps you keep even better watch on your cardiovascular healthOmron HEM 7121J comes with 3 years warranty and lifetime support provided by Omron.
This digital blood pressure monitor is guaranteed to meet your standardsThis product is mainly designed for general household use.
Omron HEM 7124 Fully Automatic Digital Blood Pressure Monitor
With Intellisense Technology For Most Accurate Measurement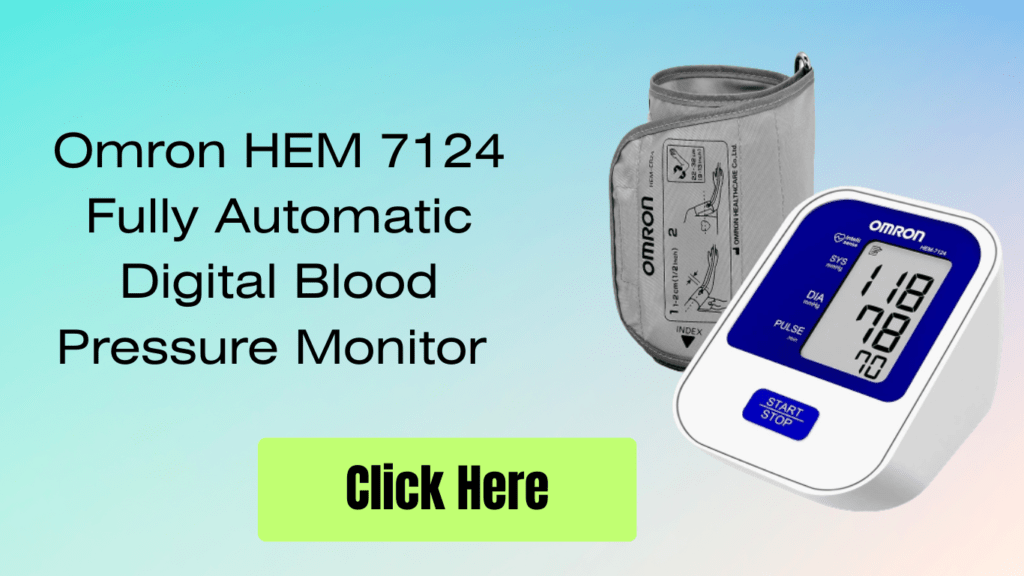 Hypertension Indicator. Display : LCD;Intelli Sense Technology.Minimum Pressure Measurement Range 0 mmHg. Maximum Pressure Measurement Range 299 mmHg
Easy one touch Operations Fully Automatic digital blood pressure monitor
Large Display screen; Memory for Last reading
3 years brand warranty from date of purchase
Unit Count Type: Count; Unit Count: 1.0
Travel Bag Say Goodbye to Over packing! 3 Best Travel bags
What is the ideal blood pressure monitor?
Normal blood pressure reading is below 140/90, but if you have heart or circulatory disease, diabetes or kidney disease, your blood pressure should ideally be less than 130/80.
Sit in a comfortable chair with your back supported, feet flat on the floor, and arm resting at heart level.
Make sure your arm is exposed, and the cuff can fit snugly around your upper arm.
Relax and Rest:
Sit quietly for about 5 minutes, relaxing and calming your mind.
Avoid any physical activity or talking during this time.
Applying the Cuff:
Place the cuff around your upper arm, just above the elbow.
The lower edge of the cuff should be about 1 inch (2-3 cm) above your elbow.
Position the Cuff:
Position the cuff so that it's snug but not too tight. You should be able to fit two fingers between the cuff and your arm.
Start the Measurement:
Turn on the blood pressure monitor and follow the manufacturer's instructions for starting the measurement.
The cuff will inflate and gradually release the pressure to measure your blood pressure.
Record the Reading:
Take note of your systolic (top number) and diastolic (bottom number) blood pressure readings displayed on the monitor.
Repeat if Necessary:
If the first reading seems unusually high or low, wait a few minutes and take another reading.
Take at least two or three readings and calculate the average for a more accurate result.
Record and Monitor:
Record the date, time, and blood pressure readings in a log or a mobile app if available.
Share the recorded readings with your healthcare provider during your check-ups.
Follow Guidelines:
Follow any specific instructions from your healthcare provider regarding the frequency and timing of blood pressure measurements.
Regular monitoring of your blood pressure at home can provide valuable information about your overall health and help in managing and preventing hypertension. Always consult with your healthcare provider if you have any concerns about your blood pressure readings or health.
For More Options Click Here