ASUS TUF F15 : Are you looking for a powerful and reliable gaming laptop? Then look no further than the ASUS TUF Gaming F15. It comes equipped with a 12th Gen Intel Core i5-12500H Processor 2.5 GHz, making it capable of handling even the most demanding games. The 15.6″ (39.62 cm) FHD display provides stunning visuals, while the 4GB NVIDIA GeForce RTX 3050 ensures smooth and lag-free gaming performance. Plus, with 8GB of RAM and 512GB of storage, you'll have plenty of space to store all your favourite games and files.
ASUS TUF F15 Design and Build Quality
In keeping with the signature TUF gaming laptop design, the ASUS TUF F15 has a clean metallic lid with the TUF logo at its center. Aside from its professional aesthetics, it can be integrated seamlessly into a wide range of environments. The build quality is excellent and ranks among the best within its price range. Even though it can withstand everyday use, it should not be dropped or exposed directly to water.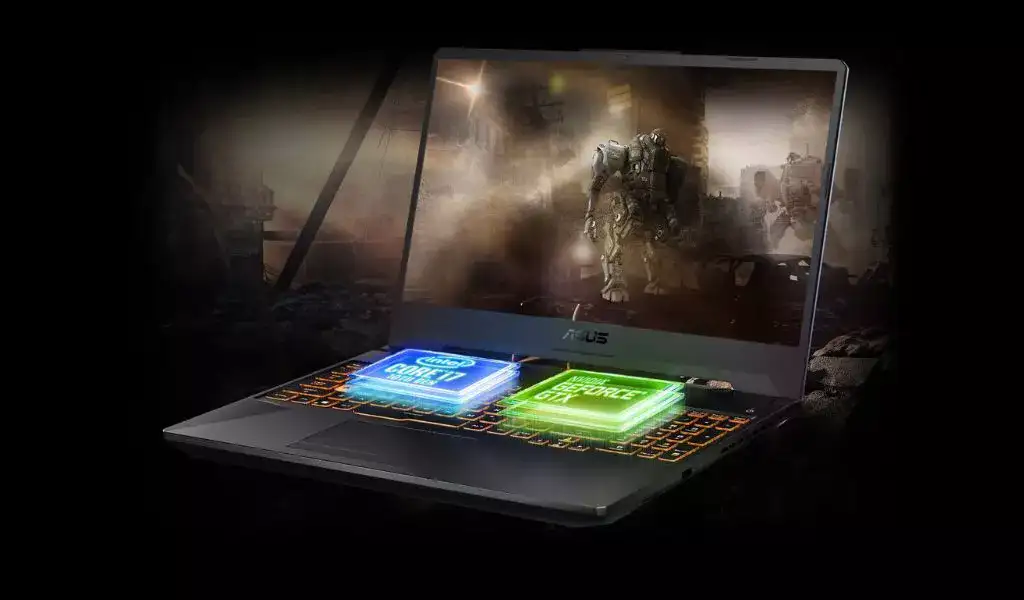 ASUS TUF F15
Specification:
Screen Size – 15.6 Inches
Maximum Display Resolution – 1920 x 1080 (Full HD)
Item Weight – 2.2 Kg
Processor Type – i5-10300H
RAM Size – 8 GB
Hard Drive Size – 512GB SSD
GPU – GTX 1650 4GB
Operating System – Windows 10 Home
Warranty – 1 Year Warranty
Battery backup – 4-5 Hours
Pros
Value for money
Great build quality
Impressive specs
Performance:
In spite of its low price, the ASUS TUF F15 offers reliable performance backed by Intel's 10th generation i5 processor. The Intel i5 10300H processor with a base clock speed of 2.5 GHz proves to be a capable gaming processor even though it may not be remarkably powerful. With a GTX 1650 graphics card, it can run most AAA games at 60FPS, though graphical settings may be compromised for some games.
Display:
With a 1080p display and 144Hz refresh rate, the ASUS TUF F15 offers a surprisingly high refresh rate. While the laptop's specs may not always push the frame rate beyond 100 in every game, the advantages of a high refresh rate display become apparent during gameplay. As long as the color accuracy isn't color-critical, the visual experience is enjoyable.
Storage Options and Upgradability:
The storage options offered by the ASUS TUF F15 are standard within its price range. It comes with a single 8GB RAM stick, which is recommended for upgrade to dual-channel memory for significant performance improvement. The laptop can support up to 32GB RAM, although such high capacity may be unnecessary considering the overall specifications. In terms of storage, the laptop provides a 512GB SSD out of the box, with an additional SATA slot available for storage expansion.
Battery Life:
The 48Wh battery of the ASUS TUF F15 is one of its weaker aspects. During gaming, the laptop offers a backup of approximately 1.5-2 hours, while general usage yields a maximum battery life of 4-5 hours.
Conclusion:
In conclusion, the ASUS TUF F15 delivers impressive gaming potential within a budget-friendly price range. With its reliable performance, commendable build quality, high refresh rate display, and storage upgrade options, it stands as an excellent choice for gaming enthusiasts. While the battery life may be a drawback, the overall features and specifications make the ASUS TUF F15 a compelling option for those seeking a powerful gaming laptop under 60,000 INR. Unleash your gaming potential with the ASUS TUF F15.
Lenovo Legion Y540: Clean and Powerful Gaming Laptop with Sleek Design